We have now seen the end of Microsoft's Q1 and enter the start of another. And for Microsoft partners of all sizes the last few months have been hectic to say the least. October sees the start of another change to the eco system which is the launch of the new partner program MCPP.  
Click to jump to sections
MCCP: What it is and what to do?
The Microsoft Partner Network is now the Microsoft Cloud Partner Program, where Microsoft prioritize the cloud to ensure our customers' future success. Digital transformation and acceleration are imperative, and the Cloud Partner Program is invested in partner success, recognizing that technical capabilities—and our strategy—is evolving to exceed customer needs.   
You can see how you are tracking against the new partner designations in your CSP dashboard. This new program is live as of the 3rd of October. Partners who are current gold/silver partners will remain like this until renewal time. At the time of your renewal, you will either transition into one of the new designations or, you will renew your partner benefits with a pack purchase. Silver and Gold will no longer renew as of the 30th of September 2022.  
Partners can learn more about this new program here and register for bi-weekly calls led by Microsoft. Microsoft Cloud Partner Program – Ireland Cloud Champion.  
If you have not started to look at this and you want assistance from the team in MWH in understanding what you need to do,  you can book a call here with any of our cloud team by clicking just here 
MWH Boost: Helping Our Partners Go to Market!
At MWH we are always working with our partners to help them to execute their GTM activities. This year we have launched our dedicated program MWH Boost to go deeper into this process. We have 3 levels of this service that we feel will fit each partner's budget and ambitions.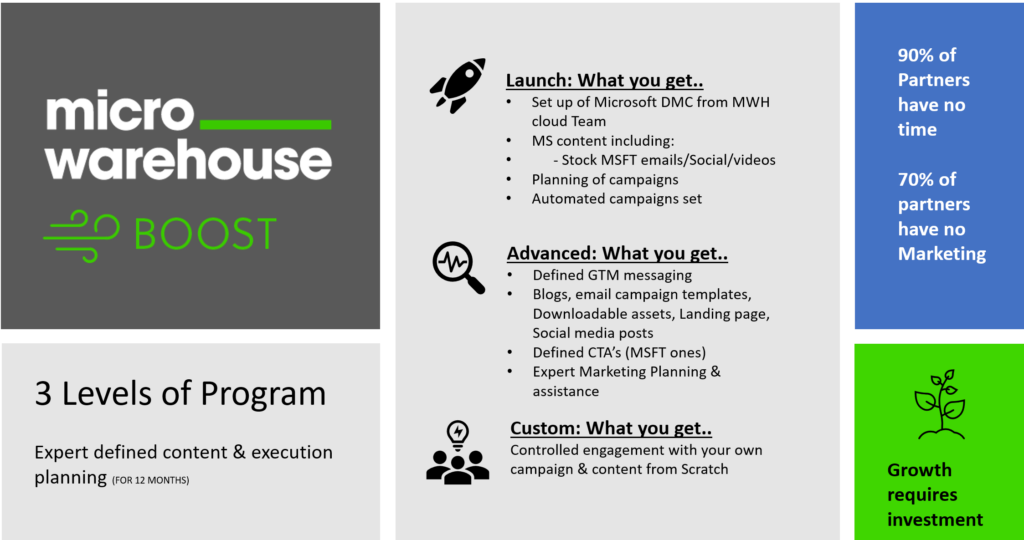 To book a call to find out more about MWH Boost click
here
Security: Security stays front of mind for our partner community and their customers. We are seeing partners striving to get up to speed with Microsoft security offerings and their full capabilities, but this is often hampered by the whirlwind of everyday. To aid with this, we are launching a few initiatives to help partners address the security needs of all their clients.  

MWH Secure Score Portal: We are launching our new CSP reporting portal that allows you to see your clients secure scores without having to dial into each individual tenant. It surfaces the challenges your clients have and enable you to have a security led conversation with them. To access this portal please click here MWH Reporting Portal.  
P2P Security Deployments: Learn on the job, while seeing revenue!
We have three P2P deployment options for partners to consider. The idea of these is to allow partners to accelerate their learning while also taking an offer to market and generating revenue.  
These offers are to enable partners to start their security practice while using either CloudWay or CWSI as a trusted partner with the security skills you need. You can choose from a Microsoft Best practices model to a fully benchmarked CIS deployment. Your technical team can shadow the partners to learn in the field allowing you to scale a sustainable and robust security offering.  

These three offers are live now with a fourth potentially in the workings for Micro businesses, but that may not materialise. Partners can book a call to discuss these service options and their costs here  
(UPDATED) Finally, join me on November 7th for our "MicroWarehouse Security P2P Offers! Grow your revenue with MWH" webinar. Learn more and register here>>

Nexus SoC:
As we see more partners evaluating Defender for Business and Endpoint, they are all slowly beginning to see that you may need a SOC or a team of Security analysts to watch some of the signals coming from these services. Of course, these skillsets do not grow on trees, and the world of security is a big and quite scary place at times. We are hearing the term SoC pop up in calls often, and various vendors being considered. So, the team in MWH took it upon ourselves to chat with several leading vendors in the space to see what options we could find that might fit into the SME market.  
We believe that we have found that partner and we are proud to be announcing we are expanding the brand of Nexus and adding a SoC service for Defender. This service will provide partners not just with the SOC platform powered by our partner, but essentially you get access to their security team and their best-in-class processes. They will help you the partner ensure that your clients are as safe as they can be. There are two options for this service, one that offers monitoring and the other offers monitoring and management.  

We believe that looking at Nexus SoC will aid you in adding considerable value to your security propositions and save you time shopping around looking for a platform that you must manage. To organise a call with our Modern Work & Security Lead to find out more click here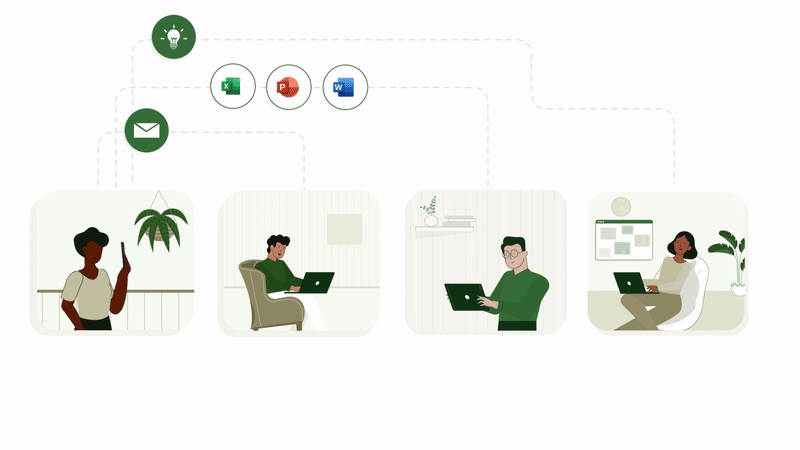 Hybrid Workplace
The hybrid paradox as Microsoft have coined it is alive and well. We are seeing first hand struggles that both our partners and their clients are having when trying to find the right balance. Microsoft released the latest update to their Work Index report where they highlight a new worrying trend called "productivity paranoia". This is born from a conflict between employees and employers. The report highlights that 84% of employees feel they are productive while working remotely, versus 12% of managers who believe they are. This is leading a pageantry around looking busy which ultimately does not deliver results. I have seen this month alone a few partners losing talent from their organisations as their employees felt they weren't getting the balance right. Read more on the Work index here.  

This challenge is something that as a community we need to look to technology to help with. Two technologies stand out from the crowd in the space from Microsoft. Teams combined with teams' rooms and then Viva.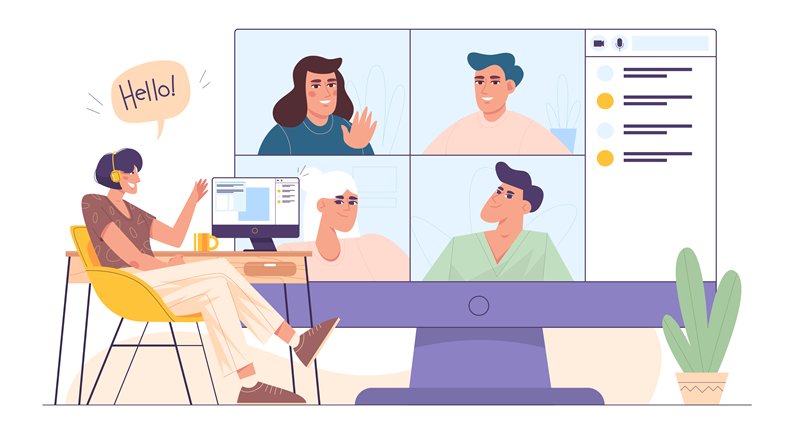 Teams and Teams rooms:
We all know the value Teams gives us on our smart devices and laptops, but not many people have Teams room systems in their office meeting spaces. We believe in MWH that this is a key part of making "modern meetings" work. Do not huddle around one laptop, invest into Teams room systems to make your meeting spaces accessible for both physical and digital attendees. This leads to more meaningful meetings when collaboration is enabled and supported by the technology itself. MWH have a few options on Teams rooms that Partner can speak to us about and have showed to them and their clients.  
There has been a change to Teams room licencing which you can see here, so keep in mind some of the fancy features like Front row require the pro version of Teams Room.  
Microsoft Teams Rooms Licensing Update 
As of September 1st, there are major changes to how Microsoft Teams Rooms are licenced. You now have 
Microsoft Teams Room Basic – €0 per device    

 

Microsoft Teams Rooms Pro – €33.70 per device with a  year commit

 
Microsoft Teams Room Basic is licenced via your clients tenant direct with Microsoft and not through CSP. You are allowed 25 of these licences before If you need to license more than 25 devices, those added licenses need to be Teams Rooms Pro licenses. Pro is added via CSP and carries some added features. You can find out more here 
To Find out more on Teams rooms organise a call with us here  

Microsoft Viva
This is a platform that Microsoft have built on the back of the Microsoft Graph. Viva will be familiar to you in the form of personal insights. These insights can help you find what is eating your time. How we can become more efficient and highlight bad behaviours too.  
But Viva is more than just that, Microsoft Viva is an employee experience platform that brings together communications, knowledge, learning, resources, and insights in the flow of work.  
To start with, Viva will have these 4 modules that you see here, and Microsoft will be adding more in the future. ​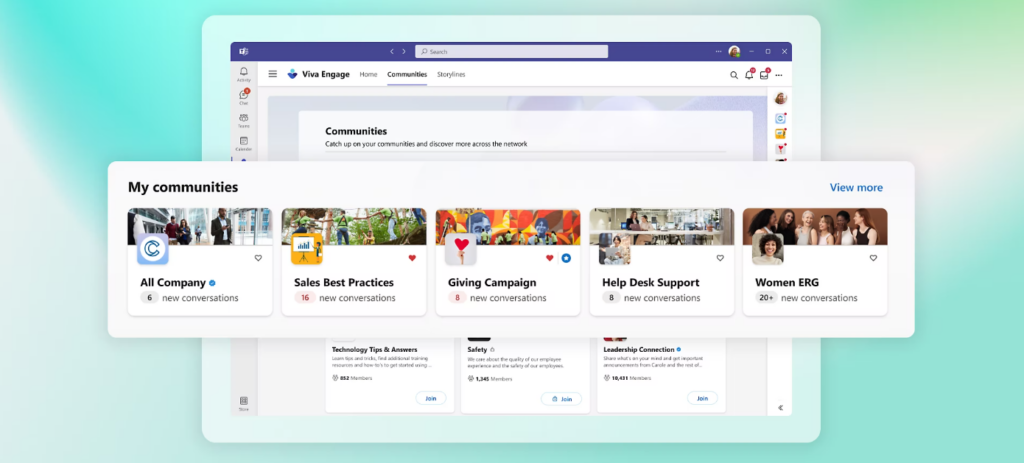 Connections

 is a company branded employee app in Teams. It is a gateway to your employee experience, with personalized news, communications, tasks, people and resources.​ It provides a single curated employee destination that can be configured for specific roles like frontline workers.  So, leaders can communicate and engage their employees, and employees can get easy access to the tools and resources they need from one place. Connections builds on existing capabilities in Microsoft 365 like SharePoint and Yammer. And it pulls your communications together into a pre-configured app in Teams, designed for both desktop and mobile workers. It also acts as a launching pad to the other 3 Viva modules​

 

Insights 

brings together Workplace Analytics, MyAnalytics and Glint into a unified insights app in Teams to provide data-driven and privacy-protected insights for individuals, managers, and leaders. For example, employees get personalized insights, only they can see

,

 that help them protect their time for breaks, focused work, and learning to promote improved productivity and wellbeing.​

 

Topics 

focuses on knowledge and expertise

.

Topics applies AI to find knowledge and experts and organize them into shared topics. AI automatically creates a topic page for each topic. It's like Wikipedia for the enterprise where AI does the first draft. And these topic pages are surfaced as Topic Cards right in the flow of work in Office and Teams. ​

 

Finally, 

Learning

allows employees to easily discover informal and formal learning in the flow of work. It aggregates content from LinkedIn Learning, Microsoft Learn and 3rd party training content and your own organizations content – all in one place.  Along with supplying aggregation and recommendations, it also allows managers to assign and track training, as well as report on training within and across teams.

 
Learn more here 
This is a very different concept to selling security or our normal services, but on that is an essential part of a successful hybrid work plan. We will be running learning paths on Viva in the coming weeks so keep an eye on MWH learn and if you want to learn more about Viva you can book a call here.  
As always it is a busy time in the world of Microsoft and IT, if you have any questions at all on the content here, please feel free to book a call via the team calendar or simply contact me directly.  
Finally, to all our partners, a huge thank you to all of you who have worked hard to navigate the NCE changes and overcome the challenges that we faced. The Team in MWH appreciate your time and effort in managing this substantial change and look forward to supporting your growth in the future.