Hello Surface enthusiasts!
Today, I'm going to share with you some exciting news about the latest Surface devices from Microsoft: the Laptop Studio 2, Go 4 and the Laptop GO 3.

These are not your ordinary laptops, These are new devices that will take Surface to the next level with their performance, design, and features. Let me tell you why.
First, let's talk about the Laptop Studio 2. This is the "most powerful Surface device ever built", according to Microsoft and I believe them. Why? Because this laptop has an Intel Neural Processing Unit (NPU) inside. This is a chip that can accelerate artificial intelligence tasks, such as image recognition, natural language processing, and machine learning. This means that the Laptop Studio 2 can handle any workload you throw at it, whether it's editing videos, gaming, or creating content.
But that's not all. The Laptop Studio 2 also has a whopping 64GB of RAM and 2TB of storage. That's more than enough for multitasking, storing your files, and running multiple apps at once. And if you need more speed, you can use the two USB C ports with Thunderbolt 4 support to connect external devices, such as monitors and docks
The Laptop Studio 2 also has a stunning 14.4-inch PixelSense display that can rotate and fold into different modes: laptop mode, stage mode, and studio mode. In laptop mode, you can use the keyboard and the haptic touchpad to navigate and type. In stage mode, you can pull the display forward and use it as a canvas for drawing or writing with the Surface Slim Pen 2. In studio mode, you can fold the display flat and use it as a tablet for sketching or browsing.
The Laptop Studio 2 is truly a versatile and powerful device that can adapt to your needs and unleash your creativity .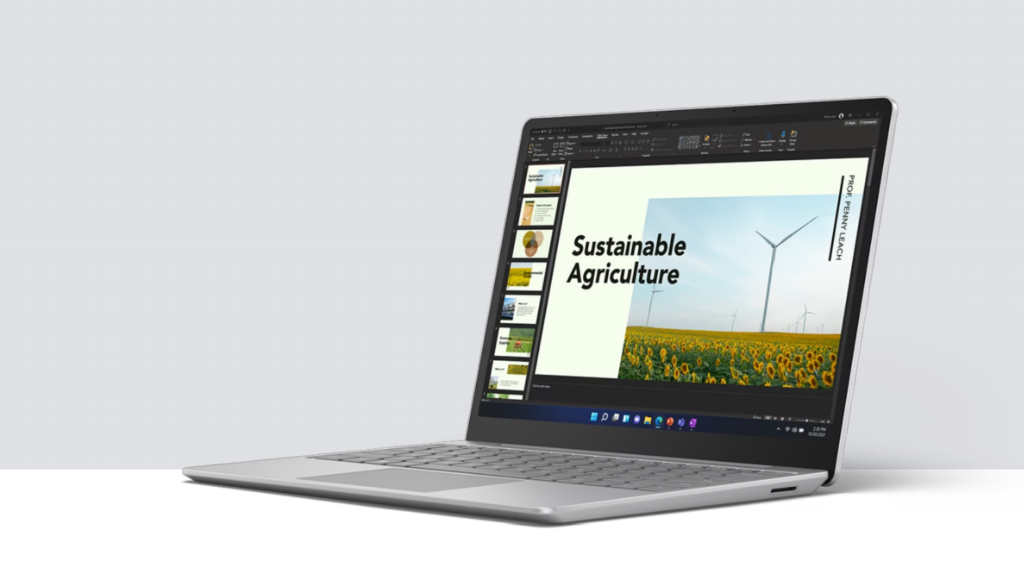 Now, let's move on to the Laptop GO 3. This is a smaller and lighter device that is perfect for everyday use. It has a 12th Gen Intel core i5 chip that delivers fast performance and long battery life. It also has 8GB or 16GB of RAM and 256GB of storage that you can upgrade to 512GB by removing the SSD.
The Laptop GO 3 has a 12.4-inch PixelSense display that is touch-enabled and supports Windows Hello facial recognition. It also has a full-size keyboard with a large precision touchpad and a fingerprint reader (optional). It has one USB C port, one USB A port, and a MicroSDXC card reader for connectivity and expansion.The Laptop GO 3 is a sleek and stylish device that is easy to carry around and use anywhere.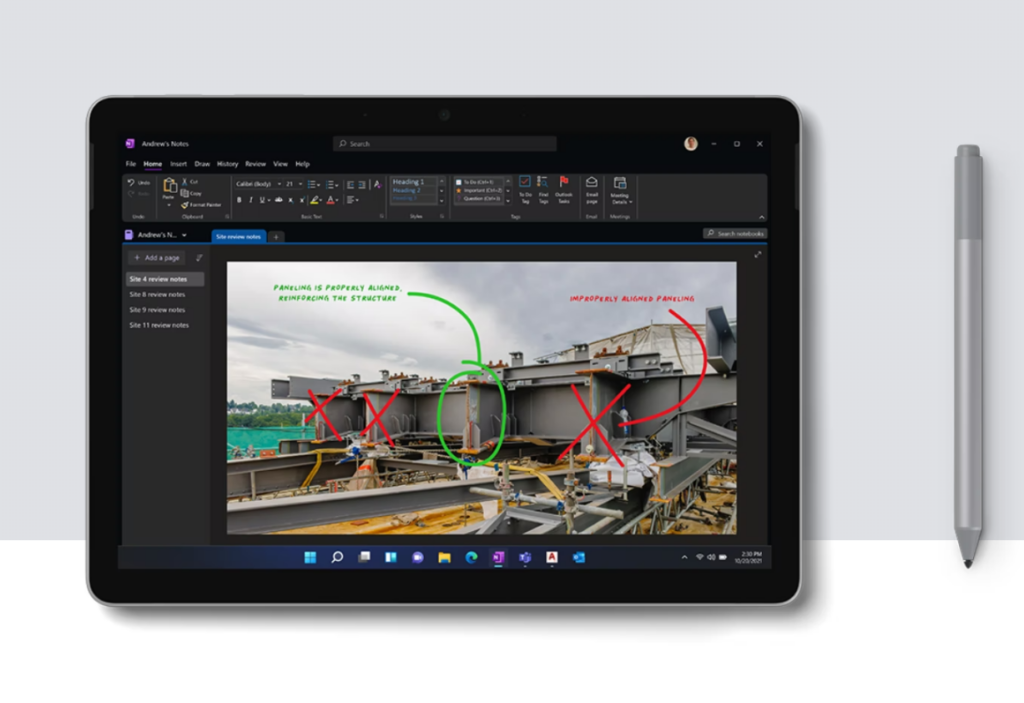 Surface Go 4 is a game-changer for our customers who need a versatile and secure device for their frontline work. Whether they are healthcare professionals, retail experts, or any other essential workers, they can rely on Surface Go to handle their daily tasks with ease. Surface Go 4 is a Secured-core PC that runs Windows 11 smoothly and safely. It's also much faster and longer-lasting than the original Surface Go, with up to 4.5 times more performance and 12.5 hours of battery life and it's flexible too. You can use it with touch, pen, or keyboard, whatever suits your needs.
Surface Go 4 is the ideal device for Microsoft frontline worker experiences and can be paired with other Microsoft solutions to boost your productivity and efficiency. Surface Go 4 is one of the few Windows 11 PCs that qualifies for Microsoft 365 for frontline, it can connect to a Windows 365 Cloud PC, and it has built-in NFC that works with compatible NFC security keys. You can also customize your device with cases and accessories from our Designed for Surface partners, to fit different industries and environments.
So, there you have it. The Laptop Studio 2,Laptop GO 3 and Surface GO 4 are the newest additions to the Surface family that will surely impress you with their capabilities and features.
For more information on the full Surface range contact: [email protected]