"The Microsoft Power Platform is more than the sum of its parts. Connect them together—and to Microsoft 365, Dynamics 365, Azure, and hundreds of other apps—and build end-to-end business solutions."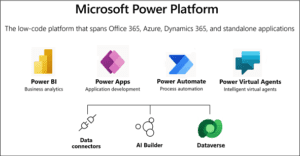 Microsoft Power Platform is usually described using the chart above under these 4 headings; Power BI, Power Apps, Power Automate (previously Flow), & Power Virtual Agents
Power Apps
Power Apps allows anyone to build professional-grade apps in a short amount of time. These apps modernise and digitise complex business line processes, with prebuilt templates and rapid deployments. It also reduces the cost of building an app by 70%.
Power BI
Power BI fosters a data-driven culture with self-service analytics functionality. The tool allows users to uncover and share meaningful insights derived from their data, so that leaders can make informed decisions around what to optimise or prioritise.
Power Automate
With Power Automate, companies can streamline repetitive, manual tasks, allowing their teams to focus on what's important. Low-code tools, prebuilt connectors, and enhanced workflows automate tasks including process approvals, form processing, and more.
Power Virtual Agents
Power Virtual Agents allows teams to build intelligent chatbots that manage customer and employee needs — without any code. The tool is based on an easy-to-use graphical interface and the chatbots are easily integrated into existing products and services.
That's a basic overview and over future posts in this series we will dig a little deeper to provide more detail on each of the areas within. We will endeavour to demystify Power Platform and look more toward problems that your Customers need solutions for, rather than understanding all the solutions before finding the problems. The most exciting aspect of selling Power Platform solutions is the significant breadth of business challenges that it can solve. When you find a one-of-a-kind custom-built solution to solve a complex problem that your Customer has had for many years then the status of your relationship with that organisation is elevated substantially, and your conversations move into a higher echelon with that company.
At MicroWarehouse we believe in helping our Partners to offer the full range of Microsoft Business Applications solutions to your Customers, whether that is through your own practice or through our Partner-to-Partner offering. Power Platform is a key part of the Microsoft Business Applications range and can help to create many solutions for your customers.
Watch out for more posts over the coming weeks breaking down the key areas of Power Platform and how your Customers could benefit from these innovative solutions. At any time throughout this series of posts you can reach out to book a slot for a 1-1 call with MicroWarehouse to discuss Power Platform and we can also organise a session with our Expert Power Platform Partners – Hikari – who would be more than happy to assist you with your Customers needs.
Fill out the below form to request a call back.
Fill out the below form to request a call back.